Tag Archives:
Project 1975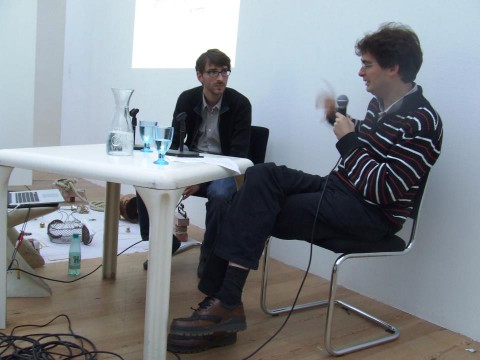 On the final day of 'Time, Trade & Travel' Zachary Formwalt was interviewed by art historian and critic Sven Lütticken. After a brief introduction to Formwalt's artistic practice and interests, a fragment of his newest video 'A Projective Geometry' was screened. The video was also part of the exhibition 'Time, Trade & Travel' in SMBA. The film testifies to Formwalt's investigation of the history of a railway in present-day Ghana. The railway was built in the 19th century by Britain to connect Sekondi to the inland gold mine in Tarkwa as a facility to create a connection with the worldwide market.
More →
The current exhibition by Gario, Groenendaal and Ruitenbeek can be seen as a break for introspection within the Project '1975' programme. This time, attention turns to the Netherlands. The presentation combines two exhibitions and an essay that each focus on cultural systems of classification, seeming certainties and the urge for cultural freedom.
The Paradox of Being Taken Seriously by Bart Groenendaal was filmed during therapy sessions with traumatised refugees who have either been granted, or are awaiting, asylum in the Netherlands. As the film unfolds, it gradually reveals the workings of a subtle power game between the Dutch therapists and their African patients and the emergence, with no evident provocation, of a growing uncertainty regarding the therapists' unquestioning assumptions about certainties concerning their own country.
In the film Ancient Amateurs Stefan Ruitenbeek utilizes his artistic freedom to create art in the domain of porn. Under Ruitenbeek's direction, the actors and actresses then concentrated their efforts on bringing an unusual narrative to life on-screen. Through the haze of porn images and chaos on the set, we see how the people involved in the film, including the artist, seize upon this curious exercise in an attempt to escape cultural classifications.
Cultural theorist and theatre maker Quinsy Gario examines Wim Verstappen and Pim de la Parra's erotic blockbuster Blue Movie (1971) in his essay in the SMBA Newsletter. Blue Movie marks a key moment in the Netherlands' increasing perception of itself as a sexually open and tolerant nation. Gario analyses the film against this background and raises a number of criticisms of the much-acclaimed Dutch self-image.
Click here to read more on the exhibition and download the SMBA Newsletter here.