Tag Archives:
Abdoulaye Konaté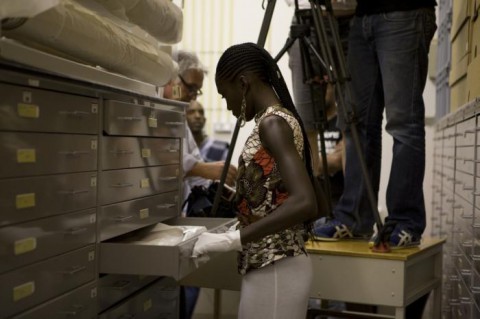 Artists: Godfried Donkor, Abdoulaye Konaté, Wendelien van Oldenborgh, Willem de Rooij and Billie Zangewa.
Curated by Koyo Kouoh.
HOLLANDAISE is a critical, contemporary art exhibition built around the colourful printed fabrics that are exported from The Netherlands to Africa, and therefore popularly known as Hollandaise or Dutch Wax. Dutch textile enterprises such as Vlisco developed commercial applications for Javanese batik in the 19th century, and found their largest market in West Africa. Today the brightly coloured fabric is regarded as typically African. But in fact it is the result of complex globalization processes that right down to this day exhibit colonial features. Curator Koyo Kouoh, and director of her own art institution in Dakar, Senegal, invited five artists to delve into the phenomenon of Hollandaise and the peculiar trading relations and cultural interchanges that it represents. They all produced new work especially for this exhibition, which after Amsterdam will travel on to Dakar.
Click here to download SMBA Newsletter #130 to read Koyo Kouah's introduction to 'HOLLANDAISE' and contributions by PhD researcher/artist Senam Okudzeto and political scientist Françoise Vergès.
In the week of October 27th, Jelle Bouwhuis and Kerstin Winking travelled to Ghana to meet with artists, as part of the exchange programme organised by SMBA and the Nubuke foundation in Accra. After their visit to Accra, they travelled to Elmina, Takoradi and Kumasi.
In Takoradi they met painter Rikki Wamega-Kwaku, who they requested to write a contribution for the next SMBA Newsletter. The College of Art of the Kwame Nkumrah University of Science & Technology invited Bouwhuis and Winking to visit Kumasi and to give a lecture on SMBA and contemporary curating. Furthermore several studio visits were organised to meet with several artists and art students.
Besides Ghana, Bouwhuis and Winking also travelled to Bamako (Mali), to attend the opening of the Bamako Encounters, the Biennale for African photography. One of the promising artists they met in Mali, Abdoulaye Konaté, might be part of a future exposition at SMBA.
Click here to read Bouwhuis' review on the Bamako Encounters Biennale for Nafas Art Magazine.